Latest News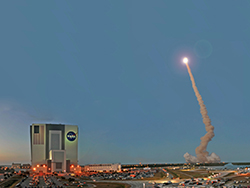 DO YOU KNOW THAT.....
Allied's Fondu Fyre® product line is the FONDU technology for launch-related systems, and has been associated with aerospace and space flight initiatives for over 60 years. Allied have the products of choice for projects that support space flight initiatives and the military. Recent testing by major launch entities confirms that Fondu Fyre® products are the most consistent choice for applications in these industries. These unique refractory materials were developed specifically for and are widely used in flame deflector and launch / blast pad applications.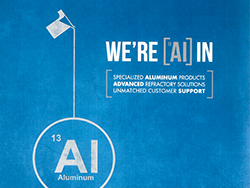 FAST-FIRE® and FAST-TURN®
FAST-FIRE® is a series of low-cement, self-flow castables that exhibits excellent resistance to molten aluminum-based alloys. This no cement design allows for a faster heat-up when compared to cement-bonded castables. FAST-TURN® castables are new castables with hydraulic settings and a very fast turn around. They can be vibrated, pumped behind forms, or shotcreted through a 1.5-inch nozzle. Both mixes mix develops good strengths at elevated temperatures, have good thermal shock resistance, and adhere well to existing refractories.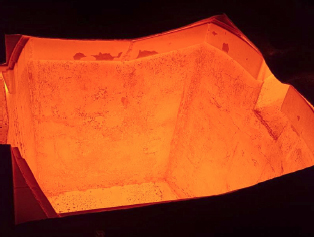 V-CAST
V-CAST® Series is an extra low-moisture, ultra-low cement, fused alumina-based castables designed for lining uppercase sidewalls, spouts, receivers, throats and floors of channel induction furnaces melting or holding iron and copper-based alloys. V-CAST® is also well suited for lining molten metal transfer equipment. This line of products offers the following benefits and features: silicon carbide addition for increased resistance to chemical attack, excellent hot and cold strengths, rapid dehydration properties for fast turnaround.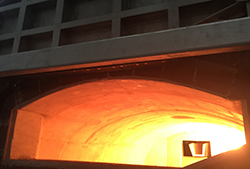 ARMORMAX 70 AC
This is a 40 tons aluminum holder-melter furnace with the first part the roof, subjected to mechanical abuses, completely cast in ARMORMAX® 70 AC. 12 tons of material has been pumped 15 meters from mixing area with a ESTROMAT 850 pump. ARMORMAX® line offers excellent installation properties while designed to withstand repeated thermal cycling, mechanical impact and abrasion based on its special formulation of raw material and on its high concentration of special stainless steel needles. After 3 years of abuses the roof is in still in perfect conditions.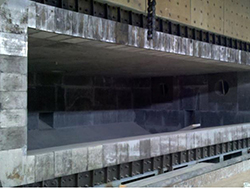 MATRICAST 60 SiC
MATRICAST® 60 SiC is a high purity, silicon carbide-based, low cement refractory castable designed for applications where wear resistance, high thermal conductivity, and resistance to molten metal is required. This material is well suited for high wear impact areas of molten aluminum transfer troughs and tapout blocks in aluminum melting and holding furnaces. A lot of our clients fell in love with this product and its performances. After a year of testing in two big aluminum melting furnaces in areas with high mechanical abuse, due to the very good results, we decided to extend the testing in many other furnaces.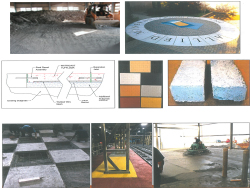 TUFFLOOR
TUFFLOOR is designed for areas exposed to extreme thermal cycling and intermittent exposure to liquid metal spills, dross and slag. lt is a versatile product that can be installed as a complete floor, over existing (or new) concrete, or as precast tiles. TUFFLOOR has over 20 years of proven performance in ferrous and non-ferrous foundries, primary metal production facilities (aluminum, steel, iron, zinc, copper, ferro-alloys), rolling mills and many other hot flooring applications. TUFFLOOR, strating from this year is also available in a wide range of colours to characterize, also with safety purposes, different areas of the flooring.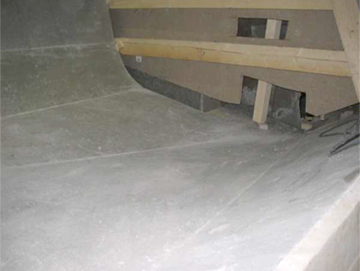 MATRIFLO 93 AC
MATRIFLO® 93 AC is a new product, high alumina based, expecially designed for high oxidated areas for the aluminum melting industry like stackmelters charging zones. Primary raw materials and specific addittives give this product excellent resistance to corundum. MATRIFLO® 93 AC is also a low silica and iron product with a very accurate grain size which allows a great density when properly installed. Over vibration must be avoid. Matriflo® 93 AC is currently used in many aluminum stackmelters with great improvement over previous products.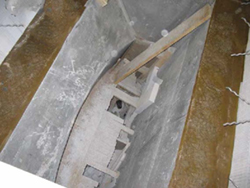 QUICK CAST 81 ACX
QUICK CAST® is a complete family of products that offers a wide range of installation methods. QUICK CAST® 81ACX is a high alumina, low cement castable designed for the most severe environments in molten aluminum applications. QUICK CAST® 81ACX offers the following benefits and features : excellent aluminum non-wetting characteristics, high hot strengths, abrasion resistant. These products also tolerate a wide water range without sacrificing physical properties. In the melt zone area of stackmelters you will want to use a low silica product, MATRIFLO 85ACX is a good solution, MATRIFLO 93 AC is a better choice if there is direct flame impingement.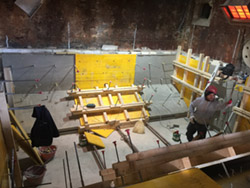 MATRIFLO® 83 ACX
January, 2022
MATRIFLO® is a new line of refractory products, high alumina based, for the first installation in melting and holding furnaces for the aluminum industry. Primary raw materials and specific addittives make these products non-wetting to aluminum and can be used in either metal or non-metal contact applications. These products offer a wide range of installation methods: pumping, pouring, shotcreting or vibrating. Matriflo® 85 ACX is currently used in many aluminum furnaces from 20 to 110 tons of capacity with great results.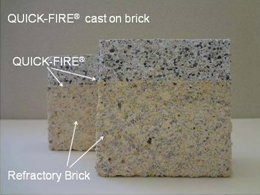 QUICK-FIRE
QUICK-FIRE® PATCH is a new line of refractory products, high alumina based, two component patching and trowelling refractory. QUICK-FIRE® PATCH line is designed to be mixed by hand. These products are non-wetting to aluminum and can be used in either metal or non-metal contact applications. QUICK-FIRE® PATCH utilizes a two component refractory system that incorporates a dry refractory aggregate and a proprietary liquid binder, QUICK-BOND. QUICK-FIRE® PATCH M can be used for patching up to 1 centimeters in thickness. PATCH B for higher thicknesses.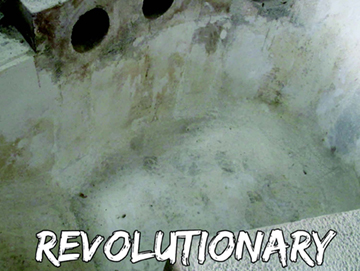 WAM-AL
WAM-AL is a revolutionary refractory product line designed to guard against corundum thanks to its' special formulation and very low free silica content. WAM-AL M is a light weight castable with excellent insulating properties and exceptional resistance to thermal shock. This unique light weight structure makes it thermally efficient and is an ideal refractory alternative to increase furnace performance and energy savings. WAM-AL M is currently under testing in more then 50 die casting furnaces with astonishing results so far.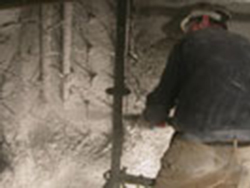 PLASTIC GUN
Plasti-Gun B AL is a true gunable plastic designed to work in Aluminum Furnaces, HTF furnaces especially reheat furnaces, Cement and lime kiln feed and discharge hoods, High temperature dryers, Iron torpedo ladle spouts, Maintenance linings in steel mills, Incinerator linings and Calciner linings. Plasti-Gun B AL is designed to be significantly more volume stable compared to competitors and its low silica content means it will resist corundum formation better then other plastics when used in aluminum furnaces.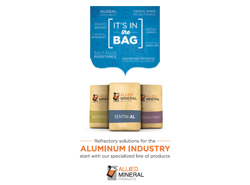 ALLIED MINERAL : IT'S IN THE BAG
On the rest of the year Delta Refrattari will focus on give all the informations you'll need about Allied Mineral products for the aluminum industry with a special highlight of 3 revolutionary product lines : SENTIN-AL, QUICK-FIRE, and MATRIFLO. "It's In The Bag" means that we do more than give you a product: we have the advanced customized solutions for your refractory needs. Allied support and technical assistance is also there globally to offer feedback on your furnace proformance and to supply your needs.